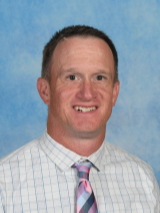 Mr. Sean Berry, District Superintendent, spent eight years as principal of Tremont High School from 2012-2020 before assuming the superintendent position in July 2020. Prior to his time at THS, Mr. Berry spent eight years at Lexington Jr/Sr High School, four years as a social studies teacher and athletic director and four years as principal. Prior to Lexington, Mr. Berry was a social studies teacher and athletic director at Hiawatha Jr/Sr High School in Kirkland, Illinois for three years. Along the way, he coached football, basketball, and baseball in various roles, including six years as a varsity baseball coach. He also played baseball competitively for several years in various adult leagues as a member of the Lexington Snipes baseball team.
Born and raised in Streator, Mr. Berry attended Streator High School before moving on to Northern Illinois University, where he received a Bachelor's Degree in History in 2000. He earned a Master's Degree in Educational Administration from Illinois State University in 2008 and his superintendent's endorsement from ISU in 2017.
Mr. Berry and his wife Kate, who teaches at Olympia High School, reside in Tremont with their three daughters and two dogs. He is a big Bears fan and one of the few White Sox fans among the crowd of Cubs and Cardinals fans in the area.
Mr. Berry is excited to lead a school district with such a supportive community and talented staff. Having witnessed the community support firsthand as the high school principal, he believes it is vital to the continued success of the district.